Black Wire Cloth, also known as mild steel wire mesh or iron woven wire mesh, made out of low carbon iron wire. As it is made with carbon iron wire without being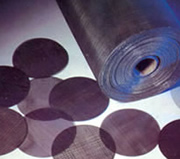 galvanized, so it is not bright, thus called black wire cloth.
Xinghua Wire Mesh Product Factory offers black wire cloth plain woven and black wire cloth twill woven. Black Wire Cloth is supplied in rolls or cut into wire mesh filter discs.
Black Wire Mesh and wire mesh filter discs are functional in filtration in the industries of rubber, plastic,oil, chemistry food, etc.